Introduction
Our Strengthening Public Accountability for Results and Knowledge (SPARK) program works with grassroots civic movements who represent people directly affected by service delivery failures. We support them in uncovering the fiscal governance causes of – and solutions to – those problems. In a three-part learning series, we explore how SPARK has built the capabilities of grassroots groups to collectively engage with fiscal governance systems – the politics, institutions, policies, and processes that govern the use of public funds and how they are utilized and implemented accountably to provide services.
In this note, we consider the ways in which we have supported grassroots groups – from smallholder women farmers to people with disabilities to women seeking better maternal health – to forge informal coalitions with civic groups that can broaden their expertise and base of support, and identify allies like government officials, auditors, legislators, the media, and others who may share their goal of strengthening accountability of public spending.
Lesson 1: Grassroots groups can lead effective budget coalitions with support and backing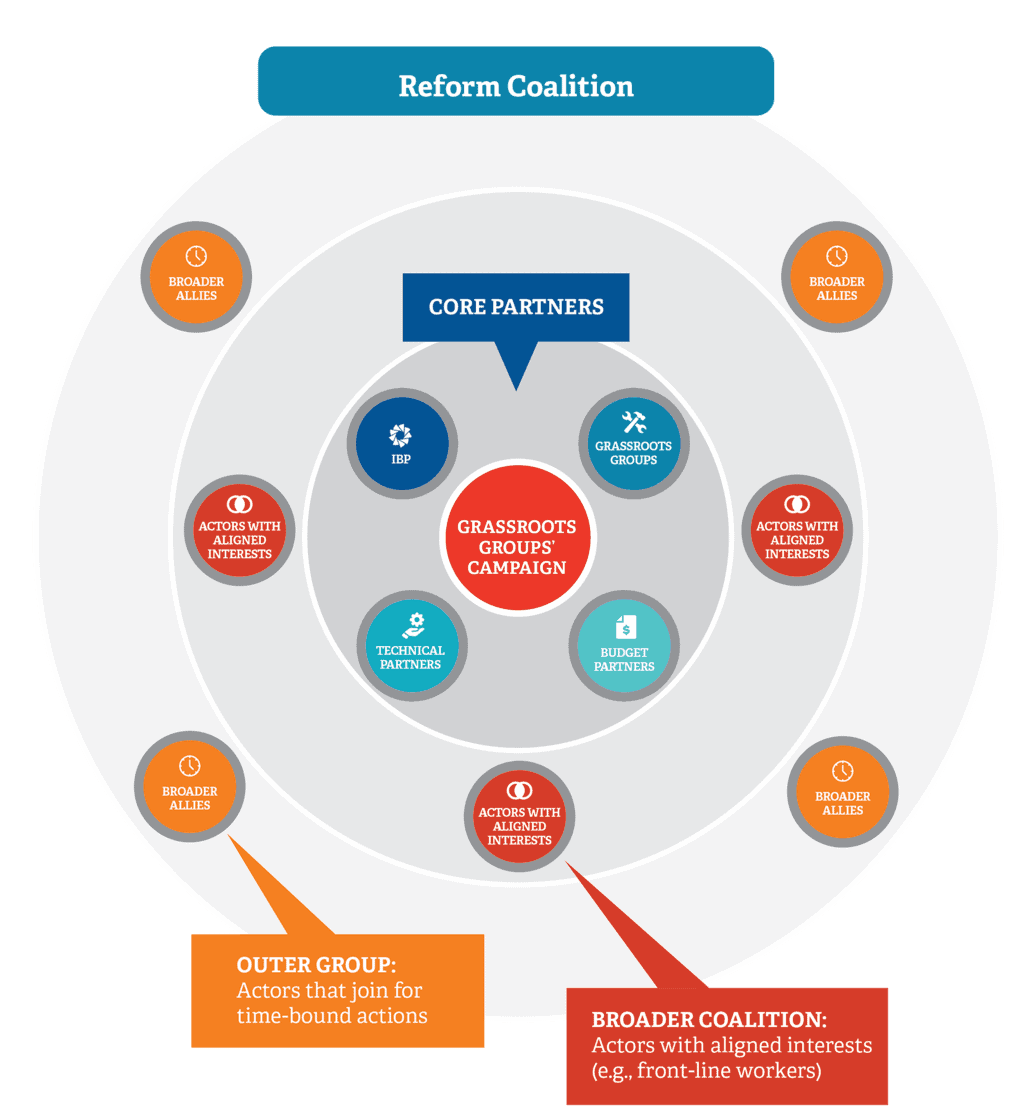 From the beginning, SPARK sought to complement citizen-led approaches to accountability, by engaging formal state oversight bodies. Sensitive yet strategically vital relationships with oversight actors – such as national audit offices, legislatures, and other watchdogs – has been actively managed. Coalitions choose their targets strategically based on the strengths, weaknesses, and opportunities of each country's institutions, and how they best fill the accountability gaps identified in budget and service delivery engagements. In identifying oversight allies, the coalition for people with disabilities in Senegal, for example, deepened its relationship with the National Assembly, which it found to be more transparent than the Supreme Audit Office.
Sometimes coalitions have had to shift between collaborating and applying pressure to the actors and institutions from which they are seeking reforms. And sometimes these shifts have activated internal accountabilities. For instance, in Ghana, the communities represented by SPARK partner Wassa Association of Communities Affected by Mining started out directing their frustration at the Mineral Development Fund (MDF) until they discovered the fund was just as frustrated itself with other parts of government. The MDF subsequently became an important ally in efforts to get other parts of Ghana's government to improve the timeliness of disbursements of funds to mining communities.
The engagement of one actor to activate another can be high-risk, especially when it leads to individuals or agencies being exposed as corrupt, inefficient, or negligent. Examples include our grassroots partner SPRI's decision to take its audit findings to the Anti-Corruption Commission when its key ally, the Department of Social Affairs, was slow to respond. The Asivikelane campaign in South Africa, which tracks water and sanitation services for informal settlement residents, has monthly releases that can embarrass Metro officials whose goodwill is crucial to the campaign's progress.
To move campaigns forward without damaging relationships with accountability ecosystem actors along the way, SPARK advocates need to be able to balance targeting and allying with these official actors, which requires skilful navigation.
Lesson 4: Media actors enrich coalitions by contributing to oversight and pressure for change
The media is playing a wider range of roles in SPARK and is attuned in sophisticated ways to the needs of the coalitions thanks to sustained outreach from partners and the relationships they have built with outlets and journalists. Traditional press and social media are playing a critical watchdog role both by drawing public and government attention to the problems the coalitions are lifting up and keeping it there by actively monitoring the problems or their resolution.
Journalists have provided essential training to coalition members on how to make their advocacy sharper, more visible and hard-hitting, and more likely to get into the media. They have also amplified and disseminated coalitions' social audit findings or service monitoring data. These efforts raise public awareness around service delivery issues and make it harder for government actors to claim they are unaware of the scale or intensity of the problems.
Journalists' involvement with SPARK coalitions has also allowed them to deepen their own investigative work. When the pandemic broke out, journalists were among the few able to travel freely in Nigeria. Our team helped SWOFON to create an effective partnership with the International Center for Investigative Reporting so that its journalists could report on the problems their women farmers faced. These investigative journalists quickly became vocal independent advocates for SWOFON's cause. They raised public support for women farmers and showed the critical role they played feeding the nation during the pandemic. One well-positioned journalist managed to secure commitments directly from a state governor, complementing SPARK engagement efforts.
Lesson 5: Through careful negotiation, frontline workers can be valuable coalition members
SPARK coalitions have sometimes started off perceiving frontline workers as adversaries or advocacy targets, but later shifted to working with them as allies. SPARK partners have often found that frontline workers are not the decision-makers or responsible for the causes of service delivery failures. They are often victims of dysfunctional public finance systems, and unhappy with the status quo. In some cases, new, more trusting, and empathetic relationships needed to be built between community members – who had seen frontline workers as the source of problems – and the workers – who felt unjustly criticized by the community. In some cases, this has also required difficult conversations to take place, such as to address community concerns around frontline workers' absenteeism or poor treatment of patients. In other words, the same balance between critical engagement and collaboration needs to be found with frontline workers as with other actors in government.
Working with frontline workers as part of reform coalitions has improved the targeting of campaigns, the information available through detailed insider knowledge, and the legitimacy of claims made by grassroots groups. In Nigeria, frontline health workers have been more "invisible" allies in efforts to improve primary health care facilities. In India, their active involvement in engagements with local authorities has added numerical strength to campaigns. In both cases, their engagement was important in campaigns that increased the resources available at the local level, and in India the release of payments owed to workers.
Conclusion
Following on our first learning brief on how SPARK has built grassroots groups' collective agency, this paper has underscored the importance of building coalitions as a means to more effective campaigns for budgets and services that meet the needs of marginalized communities. Even strong grassroots actors cannot "go it alone" and bringing them together with other capable civil society organizations, media, and government allies, including oversight actors, has contributed significantly to SPARK's outcomes. These emerging collective approaches go beyond many of the isolated, project-based efforts common in civil society in SPARK countries.
However, as we look forward, building sustainable, empowered coalitions is an objective in itself that deserves further attention. Advocacy history includes both coalitions that collapse when external funding is withdrawn, and legendary coalitions that live on in adapted forms or turn their energies and skills to new issues. There are several strategic questions for SPARK moving forward. First, what will keep grassroots groups engaged in campaigns, when they move from securing quicker improvements in service delivery to addressing issues in the PFM system that will take longer to reform? How can these coalitions keep grassroots groups engaged and front and center for as long as it takes to bring systemic change (building on the learnings that we explore in our learning brief on government engagement)? Second, how can SPARK connect grassroots groups with more allies and help them consolidate relationships not mediated by funding? Lastly, should SPARK's strategic accompaniment focus on building the coalitions or on building the capacities of grassroots groups so they can move forward after SPARK and join and leave coalitions as circumstances dictate? These questions will be critical for SPARK coalitions to be sustainable long-term.
This brief is based on a Learning Note produced by Rosie McGee and Colin Anderson.