This post was written by Paolo de Renzio, Senior Research Fellow for the Open Budget Initiative at the International Budget Partnership.
Access to budget information is a fundamental precondition for civil society budget work. When governments do not release detailed budget data to the public, it is impossible for civil society organizations (CSOs) and other actors to carry out independent analyses which can be used to influence government policy. In order to overcome this major obstacle and put pressure on governments to publish more budget information, the International Budget Partnership (IBP) started producing the Open Budget Survey (OBS) in 2006. Since then, budget transparency has gained widespread acceptance, and scores on the Open Budget Index (derived from the OBS, it assigns a score to each country based on the information it makes available to the public throughout the budget process) have been rising – albeit slowly.
However, even when budget documents are comprehensive and published in a timely manner they may be too complex for an audience with limited technical knowledge and skills. They also may not contain the types of information or level of detail needed to investigate a specific policy or service delivery area. To investigate this issue, IBP teamed up with the Overseas Development Institute to see whether the budget information made available by governments responded to CSO needs. The project and resulting report focused on Africa, one region where budget transparency challenges are greatest.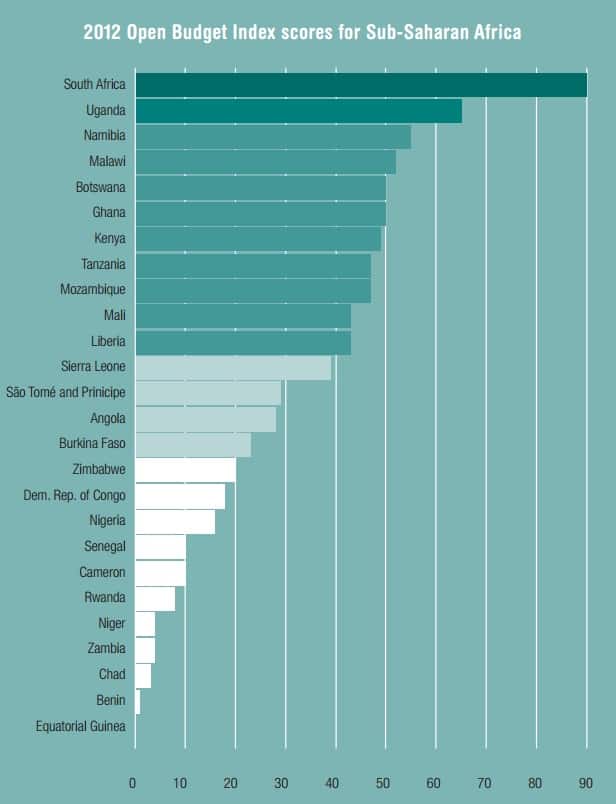 To develop a preliminary assessment of the specific budget information needs of African civil society, we reviewed their use of national budget data in publications available on their websites. The review included almost 70 groups affiliated with IBP in 30 African countries. We found 51 recent publications from 18 organizations in 13 countries that used budget data extracted from publicly available government documents as a basis for their analyses and advocacy initiatives. Based on their content, we created a list of types of budget information that are most relevant to CSOs:
actual spending on medicines (and medical supplies) as a share of total health expenditure;
actual spending on primary education as a share of total expenditure;
total budgeted transfers to subnational governments as a share of total budget; and
actual capital expenditure as a share of total expenditure, and explanations of the purpose and expected results of different capital projects.
In order to assess the degree to which African governments publish these types of budget information, we focused on those countries in sub-Saharan Africa that, according to the 2012 OBS, published both the budget as approved by the legislature and annual reports that detail actual revenues and expenditures. These two documents are particularly important for the independent monitoring of what governments do with public resources. The first details the government's policy intentions as sanctioned by parliament and the second reports on what actually happened during the course of budget implementation. Just 11 of the 26 countries covered qualified: Angola, Botswana, Burkina Faso, Liberia, Mozambique, Namibia, Nigeria, Rwanda, Sierra Leone, South Africa, and Uganda. Among these, only seven presented information through web portals where reports for various years were made available.
Main findings from the study include:
Enacted budgets are often quite comprehensive, while year-end reports tend to only provide aggregate outturn information.
Comprehensiveness varies significantly from country to country. While all seven countries studied in the report provided information on health spending, only two countries detailed spending on medicines as part of health spending, or included information on capital projects in their budget document.
More generally, budget documents provide limited detail on the composition of expenditure within specific government agencies.
In some cases the analysis raised questions about the quality and reliability of publicly available data, as some data from different documents could not be reconciled.
These results highlight how, despite the positive trends that can be seen both in Africa and internationally, great challenges remain for civil society groups interested in budget monitoring and advocacy. Even the most transparent governments in Africa do not publish much of the specific budget information that is deemed most useful by civil society. Advocacy efforts aimed at improving levels of budget transparency will need to be re-doubled, and possibly targeted at country-specific information needs that will allow budget groups to more effectively pursue their goals.